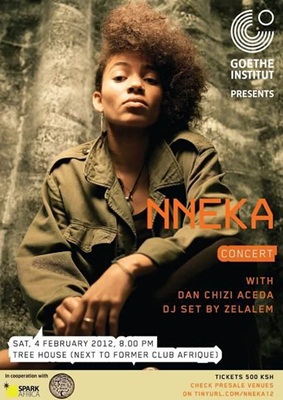 By ChicaMod.com
"I wouldn't see myself as a political activist,but if there were no pain in the world, I wouldn't sing." Nneka
Nneka, the Nigerian recording artist considered as an activist more than a singer will be at the Goethe Insittut Nairobi, Sat 4th Feb from 8 pm – 5 am. Tickets: 500Ksh, pre-selling from 30th January @Goethe-Institut, Monrovia Street. Tickets can also be bought at the door.
Nneka is setting out for an East Africa tour made possible by Goethe-Institut to Kenya, Rwanda, Uganda and the Sauti za Busara festival in Zanzibar.
About Nnneka
Nneka, an Afro-German stretches from teardrop soul-singing to freestyle rapping. She grew up in the Delta region of Nigeria and later relocated to Hamburg. In 2005, she put out her first album, Victim Of Truth, followed by No Longer At Ease (2008). She has been invited and feautured as a supporting act on US rock star Lenny Kravitz tour.
Her third album, Soul Is Heavy (2011) is multi-faceted and "politically conscious", a potpourri of Reggae, Soul, Afro, R&B and Hip Hop.
More Details on the show Here
Check out Nneka music video below
About James
James is a writer at Chicamod. James, a graduate with a major in Social Administration and minor in Psychology is an avid writer and pop culture enthusiast. When he is not writing or scouring the net for the latest news, you will find him next to his radio listening and analyzing his favorite local programs – his preferred being music .
Events Goethe institut events, Nairobi events, Nneka, sauti za busara