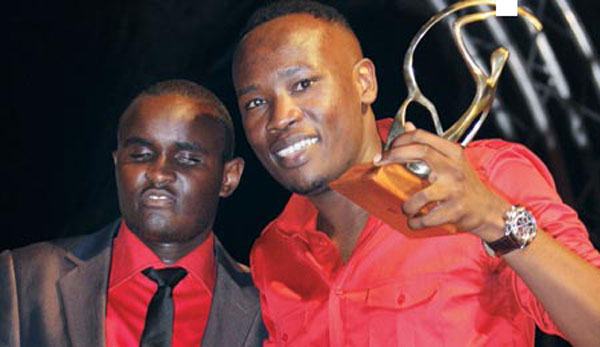 By Salem Lorot
It is the song "Mbona", released sometime last year for which he collaborated with Daddy Owen that threw him into the limelight. Dennis Karanja, a Kenyan, is blind but this has never deterred him from curving himself a niche in the musical world.
He has released a new album titled, "Naona Mbali", which translates to "I can see far". In that album, there is one song in which he reminds people that one can still have visions and aspirations though they are blind. Some of the songs in that album include "Safari" ( Journey) sang together with Eunice Njeri, "Niseme" (Let me say) sang together with Peter Katua and "Mbona" (Why?) sang together with Daddy Owen.
Last year, at the Kisima Awards, Denno won Kshs. 2 Million for emerging as the Best Artist for the song "Mbona". He took one million and established the "Mbona Foundation" to rally the cause.
"Mbona" is a heart-rending song which asks the question "Why should a person with disability (PWD) be treated harshly?" It strikes right at the heart of the faulty perceptions people have of PWDs, encouraging people to be proud of PWDS who might be their relatives and friends. The video, well done with short clips of interviews of persons who have children, siblings or friends with disabilities, dispels the myth that disability is a curse.
Born in Kangemi, Kenya, Denno went to the Thika School for the Blind for his secondary education. Then he studied IT. His first album was "Nafsi" (Soul) recorded in 2007. Last year, he released another album titled "Ninapokuita" (When I call you).
His long time friend, Peter Katua, says this of Denno: "Even though both of us cannot see, Denno has been my guiding light since when working with him he cannot hide mistakes and is willing to correct one".
Not amused with the fact that most people have the notion that all persons with disability are beggars, Denno is quick to remind PWDs to earn their living, if they can. He advises them to be patient, working hard on their skills and not to put money first in their talents.
Chicamodwishes Denno a brilliant musical career ahead. And also the "Mbona Foundation". Through him we learn that one may be blind physically but sighted in terms of vision.
Check out the "Mbona" video that propelled Denno to stardom
Salem is a freelance writer and poet from Kenya. Twitter: @echoesofthehill
Arts & Culture Dennis Karanja, mbona, mbona foundation, persons with disability, What I a blind man, what is a disability